Stampin' Up is having an amazing Designer Series Paper sale!
get your new papers during the month of July!! as with all orders, when you place an order of $150 or more, you get $25 in free HOSTESS dollars to spend!!
Designer Series Paper – Buy 3 get 1 FREE!!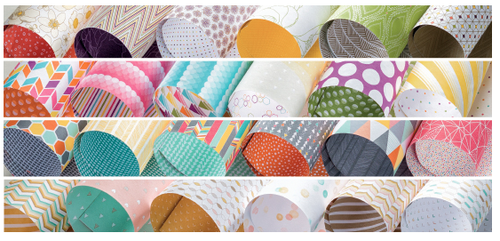 CLICK ON ANY OF THE PRODUCTS BELOW TO SEE THE DETAILS:
I had a baby shower to attend, so I came up with this cute little card for a BOY baby, using the Elephant from Zoo Babies and the striped paper from High Tide DSP which will GO AWAY next Monday!! So if you want some gorgeous versatile paper, get it this week!!
Now here is my card:
I used the scalloped tag punch to make the tag for the front, running the ribbon underneath and tying on the side. One tag I "distressed" and the other not.
I made two , since I know of someone else having a baby later on, and I'll have the card all ready!!
You only have 3 days left to order the HIGH TIDE designer paper, before it's gone!
Thanks for stopping by my blog.
We have a new photopolymer stamp set available for BIRTHDAYS!! This stamp is only available while supplies last! Order it quickly!
Endless Wishes Photopolymer Stamp Set
Some samples of what these will look like
This set is available to order NOW!! Go to my order-online website to order this and RETIRING In-COLOR cardstock (new supply received)
Stampin Up! has received a limited supply of the retiring IN-COLOR cardstock, but only while supplies last!
Be sure to check all the categories on my shopping link, as new things can be added to the WEEKLY DEALS, CLEARANCE rack, etc.
This week's Weekly Deal for May 13-May 19 includes the following items:
DON'T FORGET!! Only two weeks left to get any retiring products!!